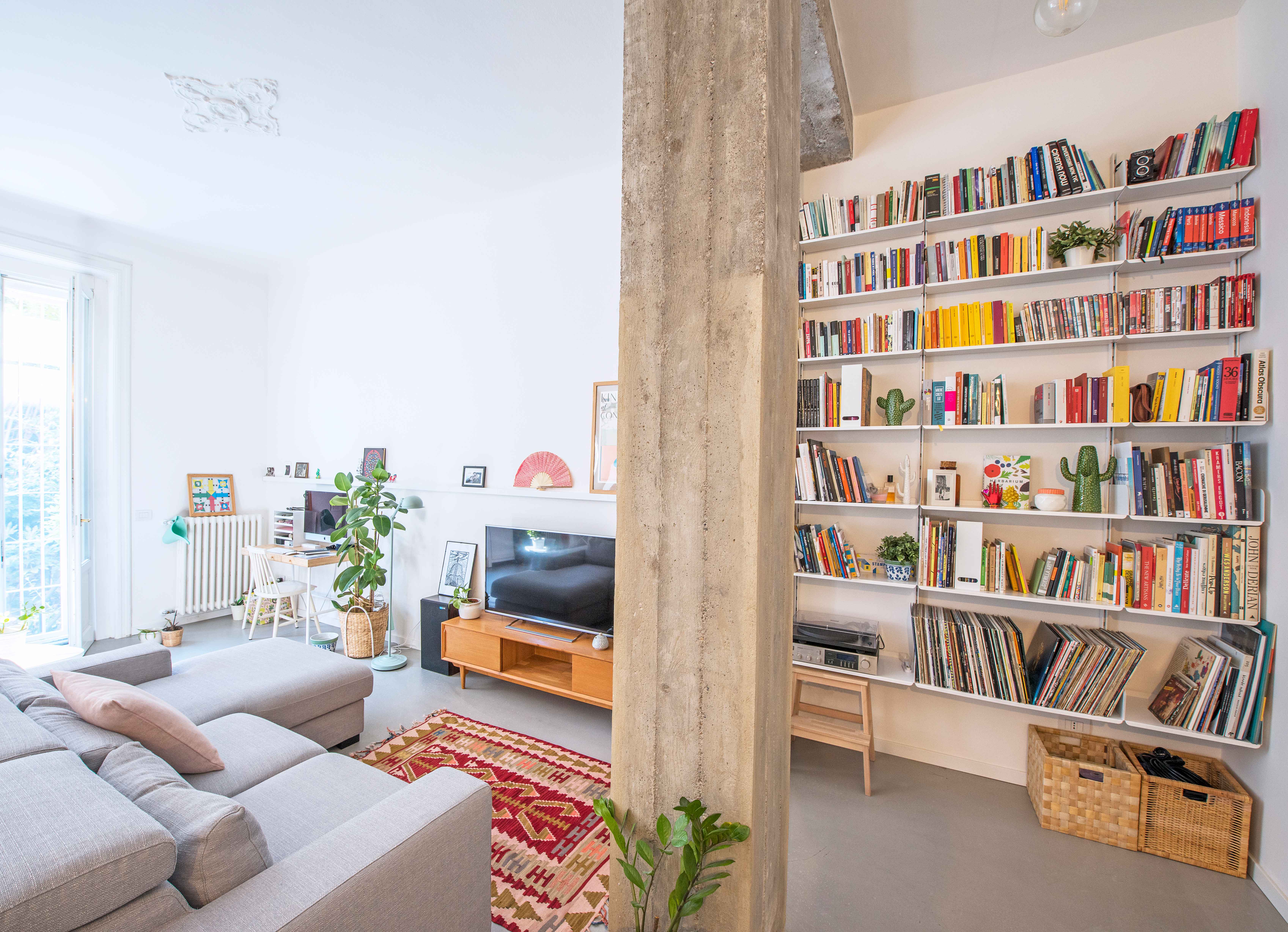 03 August 2018

The fabulous world of fabrics

Pastel colors, light wood and clean minimal shapes: the living of the textile designer Silvia Stella Osella refers to interiors of Scandinavian taste … and, indeed, there is a reason. Let's find it out together.

I studied illustration- Silvia Stella tells us – but I have always been fascinated by the concept of "applied design drawing". I found a specific course in London to become a Textile Designer, I returned to Italy and I started working as an employee for important textile companies.

My need for change had not subsided, however, so in recent years, I became again a freelancer and moved to Milan.

I keep doing my job and much more, as often happens, I turned my working status from employee to "independent" (www.silviaosella.com).

Being a freelancer in textile design, in Italy today, has many advantages: the first is to be one of the few. It is a niche job, indeed, but actually done inside a company, while external consultants are unusual; often I give advice to young people who would like to take this path. It is a pity, in fact, that here, in the country that boasts one of the most important histories regarding the printing of textiles, there are no specific courses.

What do you do, specifically, today?

I still collaborate with the best-known fabric companies, related to the big fashion groups, I draw wallpapers, i do consulting and with two friends I started a new adventure.

There you are, we are approaching the Scandinavian world – continues the designer – as my adventure mates and I live in three completely different places: Milan, London and Helsinki. The adventure, actually, is a sustainable fashion start up, ILUUT, that we built starting from a very successful crowdfunding. With ILUUT we only sell online (in order to contain costs) eco-sustainable products, made 100% in Europe through a production chain completely transparent and traceable by customers, starting from the origin of the fiber seed.

The aesthetics of the garments we offer is inspired by the Scandinavian world: on one hand we wanted to differentiate ourselves from the proposals of sustainable clothing that are generally found in commerce, on the other, very simply, it is a taste that personally reflects me.

We are curious: is it the same taste that shaped your house aspect?

Of course – Silvia Stella answers. – Whit the arrival of Pietro, our baby, my partner Flavio and I have moved lately. We liked the apartment because of some aspects that are easy to find in the Nordic interiors. It has high ceilings and the basic colors that we have chosen for the walls are neutral: white, gray and light wood. For the large living room with kitchen, which welcomes who come into the house, we thought of a bookshelf with specific characteristics. For us the bookshelf was the most important piece of the room. It had to be light, clean, almost "transparent" to the content, but with an elegant style, and when we entered Kriptonite showroom we immediately fell in love with it. The atmosphere of the systems was just what we were looking for our home. The modularity of the K1 system has assured us that we could add and move each elements of the bookshelf according to our needs. Then when we saw that the bookshelf from which we wanted to start was the exact size of our niche, we thought that was a sign and any doubt would have disappeared.
Photo credit: Roberto Gennari Feslikenian